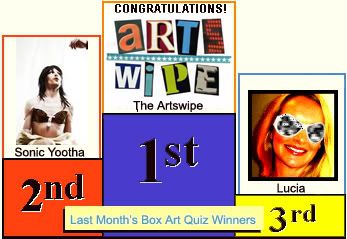 Winners of
Box Art Quiz
#1
The Artswipe
,
Sonic Yootha
and
Lucia
Last month's Quiz Answers:
The Moon Museum

by John Chamberlain, Forrest Myers, David Novros, Claus Oldenberg, Robert Rauschenberg, Andy Warhol
Lynda Benglis
PVI Collective Extra Points:

tts:australia

Broadway Boogie Woogie

Extra Points:

Token Stroll

& ref. to Modernism, grids, cities
Alan Kaprow

Body Melt

Extra Points: Philip Brophy
Art Povera Extra Points: Germano Celant
Newell Harry
Francis Alys
Box Art Quiz #2
1 point for every correct answer
Extra Points: where indicated = 2 extra points
Name the three performance artists who performed together in

The Sound of Failure

at

Petersham Bowls

, NSW, on Saturday the 24th August 2007.
Name the artist who created "combines" (images layering painting, drawing, photography and found objects), between 1953 and 1964.
Name the visual artist who wrote and performed the song

I Like Things

.
Name the artist who exhibited 258 snapshot-sized photographs installed in a frieze-like band encompassing 24 metres of gallery space in the exhibition

After Image

at the

Fruitmarket Gallery

in

Edinburgh

UK in 2003.
I am an art movement that first appeared around 1945. My conception is generally attributed to the painter

Jean Dubuffet

who described practitioners as taking their subjects, materials, style etc. from their own "individuality" rather than from classical art or art trends. Practitioners of me are usually deemed mentally or socially marginal and this has led to these works, today, being grouped together under another classification.

Who am I?

(name the art movement).

Extra Points:

What other name is commonly given to work of this type today?
Name the artistic partnership who exhibited

Fallujah

in 2007 at the

Galerie Peter Kilchmann

, Zurich, Switzerland.
Name the artist who created the The

Cremaster

Cycle.
Which emerging South Australian artist received a

Freedman Award

in August 2007?
In what year was the

Turner Prize Exhibition

first

held?

Extra Points:

Name the artist who won the

Turner Prize

in that same year.
An artist with the same initials as the artist's name for Question #7 exhibited at both

Downtown Art Space

's

Meet & Greet

exhibition (Adelaide S.A.), in April 2007 and

Gertrude Contemporary Art Spaces

, (Fitzroy VIC), in June 2007.

Name the artist.

Extra Points:

What was the title of the exhibition at Gertrude?