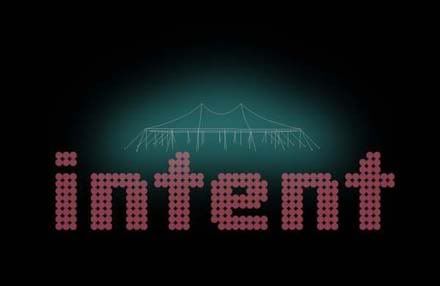 Intent

[2007] promotional material
Intent
An exciting exhibition extravaganza.
Tents and interior spaces creating hybrid works and new collaborations with light, projections, photography, painting, sculpture, writing and sound installations.
The Queen's Theatre
Playhouse Lane, Adelaide
March 16 - 31 2007
Just like "
Honest John
" (
especially this week
)
Skanky Jane
knows that the road to hell is paved with
good intentions
. Yet here it
finally
is, the link to
Skanky Jane's Picasa Web Album
where you can view images from the exhibition
Intent
as it was at the
Queen's Theatre
in Adelaide on the 16th to the 31st of March 2007.
A current Masters candidate at the
South Australian School of Art
, painter and curatorial director for
Intent
,
Brigid Noone
, spoke with
Skanky Jane
about the exhibition, her emerging thesis on vulnerability within contemporary art and the foreseeable challenges of being vulnerable, or "coming from the heart", when facing "The Institute".

If it

is

the road to hell we're traveling then it must be said that curatorial director for

Intent

,

Brigid Noone

, summons images of heaven rather than hades. "

Fevvers

" from Angela Carter's

A Night at the Circus

came to my mind as we talked

.

Ambrosial visions

indeed!

Intent

's ambience of magic realism together with Brigid's striking

au naturel

countenance and crowning glory most likely prompted the association. Unlike Fevvers, Brigid is very real and I am sure is neither nearly so crude, in spite of her penchant for vodka.

Brigid frequently referred to the

University of South Australia

, at which she studied for her Honours degree in Visual Art and at which she is a current

Master of Visual Art

candidate, as "

The Institute

".

Intent

artists

Leigh Corrigan

,

Annika Evans

,

Mary-Jean Richardson

and

Tomasz Talaj

once shared a like-named studio space at Port Adelaide with Brigid and exhibited together in

Pucker

during Adelaide's 2004

Fringe Festival

. One artist I missed from this group during

Intent

was

Jennifer Newton

. In 2005 Leigh Corrigan curated

Be, twixt

at

The Project Space

and included

Jennifer Newton

with

Hans Kreiner

and

Greg Ansell

. Personal and professional relationships forged on the perimeters of Adelaide's high art square have been fortified through persistent, or consistent, exhibition. Intent artist, Mary-Jean Richardson, exhibited with Brigid at Adelaide Central School of Art in 2005 when they presented

Crush Me

, an exhibition of paintings and photography.




Brigid Noone

,
Tree spirit is dying [2005]
from

Crush Me

IMAGE SOURCE



Artifice aside, like Fevvers , Brigid has a big heart to lay bare and, (also like Fevvers) possesses an apparently inexhaustible amount of energy with which to bear it.



Daniel Noone's Carousel was a highlight.

I'll write more of this - I just want to publish it because it's been here a while!