Pearl Crown Tiara by Mary McDermott
Silver plated base and wire, imitation white and peach pearls
& swarovski crystal drop
[Sacred to Venus, pearls symbolise love and beauty]
Spring is here and summer is hot on its heels - in the southern hemisphere at least! The change in season brings not only hay fever and melanoma but the latest in bodily adornment from NYC, Milan and Dainty Pretty Things. And what is it exactly that's got fashionistas hot under the collar this season? In a word -

jewellery

. 'About half the designers who showed at the tents in New York City's Bryant Park from Sept. 8-15 sent jewellery down their runways' writes Beth Braverman in her fashion report for the National Jeweler Network. Canny consumers (provided the pennies stack to less than a few hundred dollars) are buying more jewellery for themselves. Chunky pieces with hand-crafted details and simple palettes are all the rage - working particularly well with refined clothing. A few well placed pieces of jewellery will give your look a sophisticated edge and have you sashaying around at dinner parties with profound hipness for the spring/summer fashion season '07.

*
Today's
Bargain Box
spills over with a Spring/Summer '07 Fashion Jewellery Special - brought to you by
Mary McDermott
of
Dainty Pretty Things
. Old favorites in baubles and beads continue to be popular this season - therefore this fashion essay focuses on one of
Mary
's specialties from among her extensive range of hand-crafted jewellery: a truly timeless treasure - the tiara.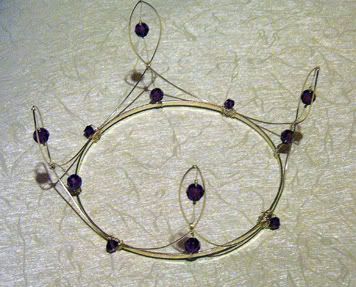 Today, the word "tiara" is most commonly associated with pop divas, debutantes, brides, faeries, all manner of queens and the Royal Show but... waaaay back.. it referred to a "high crown" worn by kings, emperors and some ancient Mesopotamians. The ancient tiara looked a bit like a richly ornamented dunce cap, some of which bore horns and feathers to stress the wearer's "big boss" status. Gods of the

Palmyrene Empire

(that is Syria, Palestine, Egypt and large parts of Asia Minor) wore turban-like tiaras, often embellished with horns. Tiaras toppled during the early Christian era as pious women shed their pagan customs (and costumes) but the neoclassical revival of the 1770s brought the

en tremblant

treasures right back again.

While many crowns and tiaras were extremely ornate and heavy others consisted of little more than a simple "fillet" of cloth. Prevalent in the attire of antique to renaissance times, the simple fillet (or circlet), was a unisex item made from woven bands of fabric, leather, beads or metal that formed a round band for wearing over the hair. And if you think this description of the fillet bears a trace of the humble wreath - you're right! In fact early Grecian-style tiaras (or diadems) were essentially just that - naturalistic imitations of wreaths of leaves - wrought in silver and gold. That spunky little upstart,

Napoleon Bonaparte

, seeking to style himself after the Roman emperors of old, crowned himself with courtly credentials by wearing a golden wreath upon his head. Tiaras, like crowns and coronets too, have further evolved into jewellery items today and are now worn (almost) exclusively by females.

Queen Elizabeth II

other claim to fame is that she possesses the world's largest personal collection of tiaras - a collection that is considered to be priceless.



Popes, not being sovereign, couldn't go so far as to wear a crown exactly - so they opted for the next best thing: a crown apostolic, a

camelaucum

, or to put it simply – a tiara. Early papal tiaras were probably inspired by the headgear of the

Byzantine East

and until the fifteenth century were black in colour. Things got a bit carried away after that. No-one is quite sure who started it but a mug shot of

Pope Innocent III

shows him wearing a two-tiered tiara and then, later on,

Pope Benedict XII

is depicted wearing a three-tiered tiara! Catholics, you see, hold that the church, as a visible society, must have a visible head and what could make your head more visible than a beehive-shaped, 38cm high cap with streamers hanging down the back, surrounded by three diadems and bearing a globe surmounted by a cross?

Wikipedia states that: 'In modern times, however, a tiara is generally semi-circular band, often metal, and decorated with jewels, which is worn as a form of adornment and not as a symbol of rank.' An overarching statement if ever there was one! In this contemporary milieu, when "

TIARA

" can signify anything from The Irish Ancestral Research Association, to an internet site where the models wear little else, to Alice Marwick's blog on feminism and technology, what the modern (or postmodern) tiara symbolises is anybody's guess.

Consider for instance the sculpture of

Paris Hilton

and her pet Chihuahua

Tinkerbell

as created by New York artist

Daniel Edwards

. The tiara worn by the effigial Paris lying in post-inebriated (and post-mortem) state, clearly and ironically denotes her status as a paparazzi princess but who can say for certain where Tinkerbell's head is at? One thing is for sure, the tiara's royal pedigree makes it the ultimate choice in satirical headgear for anyone encompassed with a nimbus of celebrity.


Lift the lid on the jewel box of any 'elegant and extravagant' type (in art or life) and you're sure to find a tiara - or two. Late TV presenter,

Paula Yates

once appeared on the British TV panel show

Have I Got News For You!

in a small silver tiara and, rumoured to have been the first celebrity ever to wear a formal tiara 'inappropriately', gave the tiny crown its current rock chick status.

Madonna

wed

Guy Ritchie

in an Edwardian (circa 1910) tiara encrusted with 765 diamonds which converts into a fringed necklace and is valued at a mere $325,000. However, in 2006, When the material girl tried to sell her lil' sparkler on

eBay

, (vowing to donate the proceeds to some charitable cause or other) it failed to attract a single bid.

Audrey Hepburn wore a tiara atop her pineapple do when she went on a

Roman Holiday

,

Joanna Lumley

now owns the tiara of 19th century Shakespearean actress, Ellen Terry,

Elizabeth Hurley

Bedazzled

us all with her tiara,

Gwyneth Paltrow

wore an ivy leaf tiara when she fell in love with

Shakespeare

and

Posh Spice

(not to be outdone by Madonna), reportedly put her flashy diamond and gold wedding tiara on eBay too!

London's

Victoria and Albert Museum

assembled over 200 tiaras for the 2002 exhibition 'Tiaras' - tracing the evolution of the auspicious ornament from the mid-18th century to the present day. Sir

Elton John

lent one of his own tiaras to the popular exhibition - a rhinestone and base metal capper in the shape of leaves flanking a star. The former

Reginald Dwight

also starred in a 1997 rockumentary, Tantrums and Tiaras, and holds an annual, celebrity studded,

HIV/AIDS

fund-raiser called The White Tie & Tiara Ball.




Pearl and Swarovski Crystal Butterfly and Flower Tiara


by Mary McDermott
Silver plated base and wire, imitation pearls,
sterling silver butterflys, fimo flower


The female fashion designer credited with creating the punk aesthetic (in collaboration with

Malcolm McLaren

of

Sex Pistols

fame) once said: "You have a much better life if you wear impressive clothes". Vivienne Westwood, renown for mixing modern and vintage styles as well as for making comic references to royalty, was herself seen wearing a tiara - of bunches of grapes carved in coral - both during the finale of her show at

London

's

Fashion Week

in February and... while riding her bicycle!

Vivienne also wore a bluebird tiara to the opening of the Victoria and Albert Museum exhibition which included three of her own contemporary creations: a yellow acrylic wave tiara, a Grecian-style tiara and a tiara fashioned from dog bone. In the case of the contemporary tiara all that glitters is definitely not gold and tiaras can be made from an astonishing range of materials. Like the one

Viscount Linley

made for his wife

Serena

, out of beechwood. Or another, also included in the Victoria and Albert Museum exhibition: a tiara formed from a sheep's pelvis and set with rhinestones - by couturier,

Dai Rees

. And the young tiara turner and self-described pop diva, "

princess_aurora

", creates herdelicious diadems from "

Pop Secret

" popcorn!

Tiaras are

de rigueur

for Prom Queens, Beauty Queens and Drag Queens alike - all appreciate the glamourous allure of a well turned tiara. The tiara also plays a magical role in faerie life and no child's dress-up box is quite complete without one. Whether you fancy yourself as the Queen of the Night or Titania, whether you're a lady off to a formal soirée or a babe off to a rave in a next-to-nothing dress, a tiara will flatter your moving body, add height and let you wear ornate jewellery without the fuss of necklaces and bracelets - while keeping your hair out of your eyes.




Swarovski Crystal Tiara


by Mary McDermott
Silver plated base and wire,
swarovski crystal bicone beads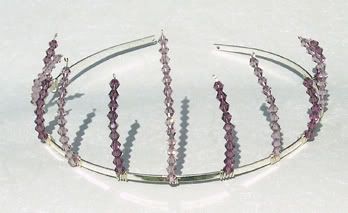 Tiaras are not all pretentious pomp and diamante razzle-dazzle - the

Statue of Liberty

wears one that could spike any new arrival's breast with terror.

Wonder Woman

(and

Sailor Moon

too) can attest to the genuine grunt and grrl power of tiaras. These two super heroines possess tiaras that not only adorn their pretty heads but double as throwing weapons capable of felling the baddest bad guy - or girl. Wonder Woman's rhinestone and ruby starred tiara also comes with a built-in linguagraph that allows her to understand all languages (eat your heart out Odd Job!)



Super Smash Bros. Melee

,

Runescape

and

Final Fantasy

games all list tiaras among equipment that is used by males. The sixteen year-old Prince Marth (a.k.a. Mars), of

Fire Emblem: Ankokuryuu to Hikari no Tsurugi

and Smash Mario Bros. Melee, wears a tiara. A parting gift from his sister

Ellis

when she was kidnapped, this tiara symbolises her love and will for him to live. Ellis' tiara is Marth's dearest treasure.

Tiaras have ever epitomised majesty, romance and glamour yet, if there is one occasion at which the magic of the tiara reaches its apogee, then it has to be at that princess-for-a-day event - your wedding. What better item could possibly be added to the bridal trousseau than a hand-crafted tiara? The

Bargain Box

adores a good wedding, especially since

Skanky Jane

and

The Artswipe

tied their nuptials in a knot. Historically, the groom often gave the bride a tiara - as a token of his love. (Arty sent Skanky a postcard!)

Mary Mcdermott's tiaras are not made for walking down the aisle to any stiff old standard though,

no sirree

! Tiaras from Dainty Pretty Things are made to burst the boundaries of the proverbial hat box and groove to your very own tune! Whether it's a nice day for a white wedding, Mehendi or a pagan hand-fasting ritual - between a bride and groom, two brides, two grooms or polyamorous family members, whether there'll be Kembar Mayang or roses and whether you'll say "Mazal Tov!" or "love, honour and obey" - a hand-crafted tiara from Dainty Pretty Things will crown your love with elegance and élan.


SJ's RECOMMENDED READING LIST



*

While

Skanky Jane

(obviously) knows nothing of dinner parties, nor of being hip, refined and sophisticated,

Ms Representation

and the rest of the

Bargain Box Crew

pride themselves on possessing high standards in personal grooming and taste.