Tim Noble

and

Sue Webster




Fucking Beautiful (Snow White)

(2002)
8 Snow White neon sections,
Modern Art, London
A postcard from everybody's favourite Art & Pop Culture blogger
to everybody's favourite skank.
In case you're thinking that

Skanky Jane

is merely another of those bloggers who "flame up" when their blog is all new and exciting only to die down to a pile of content deprived, cold, wet ashes a month or so later - this is just to let you know - YOU'RE WRONG!

SJ

hasn't posted much of late as she's been preoccupied with building a blog for everybody's favourite pansophic

Professor

. Not to mention preparing for an upcoming gig at the Parks

plus

getting the house ready to host this Sunday's Housing Cooperative Management Meeting. "Getting the house ready" in this instance requires more than a lick and a promise - it means painting walls and hiring a mini-skip.




While on the subject of Housing Cooperatives, do they conjure images of politically active socialist types in knitted beanies and warm socks collectively planting vege gardens (when they're not holding hands that is) or building rammed earth dwellings? WRONG AGAIN. The "welfare model" has ruined public "community" housing and no one knows who they are anymore. But we digress, the point is that of late this plebeian hasn't had the time to scratch her skanky ass. But don't be fooled, while

Skanky Jane

may

miss a beat here and there, she

is

a skank built for distance and as such will be around for a long time yet - bucko! Besides, there

actually is no race

, no destination even, and

SJ

aint in no hurry.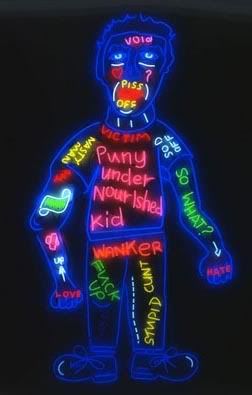 Tim Noble

and

Sue Webster




Puny Undernourished Kid

(2004)
40 x multi coloured neon sections
4 x transformers, 284 x 180 cm
Saatchi Gallery
retrieved from 7/1/07
Deemed "beautiful Baroque Kitsch" [1], the art of

Tim Noble

and

Sue Webster

gained worldwide notoriety in the 1990s with their exhibition

British Rubbish

[1]. The pair, who are partners in both art and life, rocketed to fame and fortune fueled by all manner of guile, ruse and subterfuge, such as employing alter egos and identity switches in their plight to the top of the international art scene [2]. Webster and Noble's work embodies contradiction, evidenced by their self portraiture, identity pranks and other self-referential elements that develop their own cult of the personality, parodying the social phenomenon of the young British celebrity artist, while undermining the authorship of the artist.


Noble and Webster's falsifications are affiliated with English carnival life, London's millennium spectacle, Las Vegas and their earlier tattoo work [2]. Creating romantic imagery from the humblest of materials via sculpture, drawing, and jewellery the artists not only confront the history of modern sculpture and the figurative tradition [4] but summon the contemporary zeitgeist [3]. Illuminating the ever shrinking space between entertainment and culture and the precarious vulnerability of existence, Noble and Webster denounce fame, fortune and the toxicity of modern consumer culture [2] while provoking us "[t]o look beyond the tawdriness to something as sacred and ageless as that ultimate moment of physical and psychic release. Yes, coming together is indeed divine" [3].




Tim Noble

and

Sue Webster




Wasted Youth

(2000)
Trash, McDonalds packaging,
replica food, wood and light projector
66 x 210 x 134 cm
retrieved from 7/1/07




Coinciding with the release of Wasted Youth, a new and comprehensive survey of Noble and Webster's work over the last decade, is the exhibition

Polymorphous Perverse

, curated by

James Putnam

at

The Freud Museum

, London, (8 November 2006 to 7 January 2007). Installed in the room of

Anna Freud

, (founder of child psychoanalysis) the work in this exhibition is riddled with references to Freud's work and notion that children are "polymorphously perverse", that is to say that they display rudimentary or disordered sexual tendencies that adults would consider perverse [5]. Bastardized children's toys, other (working) mechanical oddities and a signature silhouette piece entitled

Black Narcissus

, made from silicone casts of Webster's digits and Noble's prick, conjure a "nightmarish wonderland of repressed sexual and sadomasochistic fantasies and transgressions" [5].



Noble and Webster are best known perhaps for their "[l]arge electric light drawings of tattoo iconography and bling logos" [6]. Ode to satirical punk,

Fucking Beautiful (Snow White)

(2002) shimmies in a "line of flashers" [2] with

The Undesirables

(2000) (a landfill sized pile of well lit trash silhouetting the artists in "sublime bucolic rapture" [3]),

The Muthafucka

,

Forever

(1996) and

Toxic Schizophrenia

(1997) .

Fucking Beautiful

also comes in rainbow colours with

The Artswipe

post(carding)

SJ

the "Snow White" version. Webster and Noble also hammed up the whiteness in

Dirty White Trash with gulls

(1998), an unromantic work commenting on the (bad) behaviour of other artists, according to

David Burrows

[7].



Girlfriend From Hell (2004) and

Puny Undernourished Kid

(2004), based on doodles they drew in 1996 [6], exemplify Noble & Webster's tendency to represent themselves as a pair of cussin' misfits with an affinity to working class culture, even "labelling themselves '

The Shit and The Cunt

' after the patron saints of new British Art, Gilbert and George" [7]. As Burrows points out:

However, although Noble and Webster attempt to construct themselves as negatives, they still want success, quite reasonably, as a lack of success can equal marginalisation and silence; and to achieve visibility entails making the right moves and knowing the right people, which contradicts their representation of themselves as misfits. This is a dilemma faced by any artist attempting to maintain a negativity within their work and it is a contradiction that can not be easily resolved

[7].

And the artists go, too totoo (toooo truuuue!) Yet, as Burrows would seem to agree when he writes "The duo wear their petite bourgeois career aspirations on their sleeves..", Tim Noble and Sue Webster, as the

Miss. Understood

and

Mr. Meanor

of the art world, carry their contradictions extremely well. To conclude however, this dirty mouthed skank much prefers the way this geezer puts it:

Noble and Webster navigate publicly and without remorse what it is to be in love amongst the waste products of consumer culture…our own factory of created desire. Their art calls to us like Christ on the crucifix, the demon and demigod infused Tibetan tankas, the indescribable, prehistoric Hindi mantra sound of "OM" and the flashing pussy-pink roadside sign...all urgently asking us to satisfy our transient pleasure yet also to remember our shared humanity and the inherent beauty of it all, which slips in along the way

[3].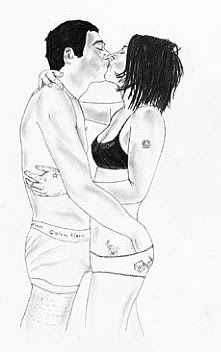 Tim Noble

and

Sue Webster




The Joy of Sex

(2005)
Set of 40 drawings
Graphite on paper
Kukje Gallery
retrieved from 7/1/07

Note: The

Joy of Sex

suite was drawn with pencils pilfered from deluxe hotel rooms the couple stayed in together [3].



References:



[1] Wasted Youth 2006, Rizzoli Publications, New York, retrieved from http://www.rizzoliusa.com/catalog/display.pperl?isbn=9780847828166, 7/1/07.

[2] Calder, Diane 2001. Tim Noble and Sue Webster, November 10 - December 22, at Gagosian Gallery, Beverly Hills, retrieved from http://artscenecal.com/ArticlesFile/Archive/Articles2001/Articles1201/TNobleA.html, 7/1/07.

[3] Sagaponac 2005, Kukje Gallery, Artists, 'Tim Noble and Sue Webster', New York, August 2005, retrieved from http://www.kukje.org/eng/artists_view.php?ex_no=72, 7/1/07.

[4] MFA Exhibition Schedule 2004, 'Tim Noble & Sue Webster', April 21 – August 15, 2004, Foster Gallery, p. 2.
retrieved from http://www.bhh.com/mfa_exhibition_schedule.pdf, 7/1/07.

[5] Freud Museum, London, 'Tim Noble and Sue Webster - Polymorphous Perverse', 8 November 2006 to 7 January 2007, retrieved from
http://www.freud.org.uk/polymorphous-perverse.html, 7/1/07.

[6] Saatchi Gallery, 'Selected Works by Tim Noble and Sue Webster', retrieved from
http://www.saatchi-gallery.co.uk/artists/noble_webster.htm, 7/1/07.

[7] Burrows, David 1996, 'British Rubbish, Sue Webster and Tim Noble, Independent Art Space London, June 22–August 3.', Variant, Vol. 2, No. 1, Winter 1996, pp. 15, retrieved from http://www.variant.randomstate.org/pdfs/issue1/rubbish.pdf, 7/1/07.