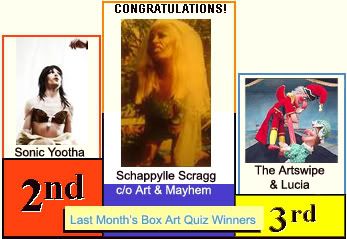 Winners of Box Art Quiz #2
1st

Art & Mayhem,

2nd

Sonic Yootha,

3rd

(a tie) Lucia & The Artswipe
Last Month's Box Art Quiz Answers:
Starella, Sonic Yootha and La Donna Rama
Robert Rauschenberg
Martin Creed
Simryn Gill
Art Brut Extra Points: Outsider Art
Lucy and Jorge Orta
Matthew Barney
Bridget Currie
1984 Extra Points: Malcolm Morley
Mathew Bradley Extra Points: Storm Machine
Mary McDermott
of
Dainty Pretty Things Online
is putting up one of her sweet, hand-crafted charm-bracelets, hung with funky fruit charms and swarivski crystal bicone beads as a prize for the
Box Art Quiz
! Why not have a go? You may only need one or two right answers to win! (And there's some easy questions in there this time!)
Box Art Quiz #3

* 1 point for every correct answer
* Extra Points: where indicated = 2 extra points


Which artist is credited with saying: "

The public is ready-made

"? Extra Points: Under what "post" (or "neo") art movement is this artist commonly categorised?
Name the sub-continental artist who is currently

[OCT-NOV 2007]

facilitating a Master Class for students and recent graduates of

Helpmann Academy

partner schools at the

South Australian School of Art

?
Name the artist who painted the

Mona Lisa

?

Extra Points:

By which other title or name is this painting known?
I am a Canadian artist born in 1957 and am best known for my audio and film work which is often made in collaboration with my partner. I frequently create site specific 'walks' that depend upon the active participation of the viewer (or listener) as they are lead into an encounter with their physical environment involving their individual senses. My work often explores the relationship between reality and fiction. Solo exhibitions of my work have been presented since 1987 and my audio-based installations have been presented in major international exhibitions and biennials. My work

The Paradise Institute

[2001], created in collaboration with my partner, was Canada's national contribution to the 2001 Venice Biennale and won both the

Venice Biennale Award

and the

4th Benesse Prize

. Who am I?

Extra Points:

What is my partner's name?
Skanky Jane, together with The Artswipe, Art & Mayhem and The Artlife, recently got a mention in which art exhibition catalogue? Provide the exhibition title. Hint: The exhibition is currently

[20 SEPT - 7 OCT]

on show at Mop Gallery, Sydney.
Name the artist who painted

Blue Poles: Number 11

?

Extra Points:

Name the art gallery that, in 1973, made a contoversial purchase of this painting.
Name the art persona who curated an art exhibition/auction titled

Looking for Democracy?

at

Mori Gallery

this month

[OCT 2007]

.
Provide the title of the Australian short film which, in 1999, won four separate awards for Best Experimental Film at the

Madrid Film Week

, the

Microcinefest

–

Underground Film Festival

in Baltimore, the

Toronto Worldwide Short Film Festival

and

Tranz-fix

.
Name the art gallery that is credited with being the first ever artist-run space to come to public notice.
Name the writer/philosopher who said: "

A schizophrenic out for a walk is a better model than a neurotic lying on the analyst's couch. A breath of fresh air, a relationship with the outside world

."